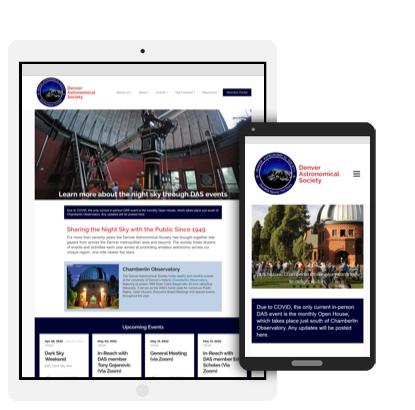 The Denver Astronomical Society approached me with an old WordPress website that had been added to over many years, and had become unwieldy and difficult to maintain. I suggested that we start over with a complete rebuild so that we we could focus on incorporating the features that meet their current needs, and not get bogged down in a lot of legacy content that might no longer be needed.
At the same time, I took the opportunity to do a design refresh with an eye towards making the website more usable for their current membership, and presenting their content in a way that will attract potential new members.
Jefferson Powers not only met our expectations for what we needed in the design of a new website for our astronomy club, he exceeded them. We were a small team with a huge, complex job ahead of us and very little idea of how to go about doing it. Jefferson guided us through decision-making steps covering the organizational layout, the look and feel of the new site, and how we could best manage the various types of content. He advised us on the options along the way, gave us the pros and cons of each, and always willingly made the changes that we felt best served those who would be drawn to our site.

Since our site has launched, our membership has grown a little more quickly than before. Our members frequently comment about how much they like the new website. Those of us who are responsible for updating or adding content are doing so with a great deal of ease, and finding it to be very user-friendly.

The fact that we have an ongoing, reasonably-priced support agreement through Jefferson also means that we don't have to be concerned about surprises that might crop up that are above our skill level. We're very pleased with our website, and so grateful that we were able to work with such a well-prepared and professional website designer.

—Dena McClung, President, Denver Astronomical Society
Visit denverastro.org.