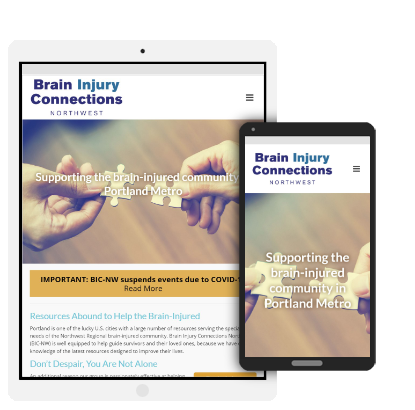 The challenge with this website for Brain Injury Connections Northwest was that they need to present a large amount of information in such a way that it is easy to navigate and doesn't overwhelm the user. Working with a professional copywriter I researched an optimal color scheme for the website, as well as helping to choose a combination of stock images and photos from events hosted by the client. Together we came up with a layout and typographic style that lets in a good amount of "breathing room" so as to avoid intimidating potential users with a dense wall of text.
"Sometimes the stars align and you encounter the perfect person to provide you with their talents at the perfect time. As a non-profit organization with a weak website and no internal resources, that alignment happened when we met Jefferson Powers. He had an immediate understanding of our world, was able to translate our passion and the needs of our clients into an easy to navigate site while working worked with humor and an educational approach. Jefferson is so intuitive and timely that we finished our project ahead of time. We will continue to work with Jefferson as our Foundation grows in the coming years."

—Susan Coombes, Brain Injury Connections NW
Visit braininjuryconnectionsnw.org.